Happy Friday, My Lovelies! Valentine's Day is quickly approaching, and I want to share with you a sweet love story: Matchmaking for Beginners by Maddie Dawson.
According to Goodreads:
Marnie MacGraw wants an ordinary life—a husband, kids, and a minivan in the suburbs. Now that she's marrying the man of her dreams, she's sure this is the life she'll get. Then Marnie meets Blix Holliday, her fiancé's irascible matchmaking great-aunt who's dying, and everything changes—just as Blix told her it would.
When her marriage ends after two miserable weeks, Marnie is understandably shocked. She's even more astonished to find that she's inherited Blix's Brooklyn brownstone along with all of Blix's unfinished "projects": the heartbroken, oddball friends and neighbors running from happiness. Marnie doesn't believe she's anything special, but Blix somehow knew she was the perfect person to follow in her matchmaker footsteps.
And Blix was also right about some things Marnie must learn the hard way: love is hard to recognize, and the ones who push love away often are the ones who need it most.
My Review:
I enjoyed this book because I like quirky romances with well-drawn, interesting characters. All the characters in this book are unforgettable, with the exception of Noah, Marnie's ex-fiancé who left her at the alter. He is such a jerk, and it bothered me that Marnie pines over him and makes poor choices concerning him for way to far into the narrative. I also enjoy magical realism, but I'm getting a bit tired of anything witchcraft related because of terrible things that are coming to light in this world. One of the special talents that both Blix and Marnie share is the ability to know when two people belong together. Alas, this magic doesn't work on oneself, which explains Marnie's misguided attraction to Noah.
Noah's Aunt Blix has an instant connection with Marnie when she meets her at a family Christmas party. She is terminally ill, but her family doesn't know. She makes the choice to leave her Brooklyn brownstone to Marnie. Blix also leaves Marnie a legacy of her group of friends who quickly accept Marnie into their fold. Most of the friends need love, are deserving of love, but they need a nudge from Marnie to realize it. Patrick lives in the basement apartment in Marnie's brownstone. He is a lovely person, but he has suffered and survive a horrible tragedy. His self-loathing is a bit tiresome, but he's no match for Marnie.
My ony complaint about the book is that the ending seemed a little rushed, especially compared to the pace of the story. I was sad when it ended, and I wanted more. I was thrilled to discover that there is a sequel in the works:
A Happy Catastrophe.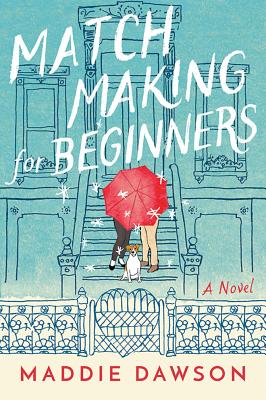 Above is an IndieBound affiliate link
Come back tomorrow for a recipe inspired by Matchmaking for Beginners.
Until next time...
Blessings!
Ricki Jill