Happy Literary Friday, My Lovelies! I hope you have had a wonderful week.
Today I'm sharing with you one of the best reads of summer:
Midnight at the Blackbird Café
by
Heather Webber
. Though she has been award-nominated for her mysteries, Webber now turns to something quite unique with her latest novel. According to the media packet: "It's a captivating blend of magical realism, heartwarming romance, and small-town Southern charm, perfect for fans of Sarah Addison Allen." And y'all, it is! I love Webber's voice, and this is such a wonderful story with several, well-drawn and quirky characters.
According to Goodreads:
Nestled in the mountain shadows of Alabama lies the little town of Wicklow. It is here that Anna Kate has returned to bury her beloved Granny Zee, owner of the Blackbird Café.
It was supposed to be a quick trip to close the café and settle her grandmother's estate, but despite her best intentions to avoid forming ties or even getting to know her father's side of the family, Anna Kate finds herself inexplicably drawn to the quirky Southern town her mother ran away from so many years ago, and the mysterious blackbird pie everybody can't stop talking about.
As the truth about her past slowly becomes clear, Anna Kate will need to decide if this lone blackbird will finally be able to take her broken wings and fly.
My Review:
As many of my long-time readers know: I love magical realism. I also love books with a strong sense of place, especially when they are set in the South. Midnight at the Blackbird Café transports the reader to a sleepy Northeast Alabama town that has seen better days. I felt the humidity; could see the valley with its loblolly pines; hear the loud slap of the screened door as it slammed; smell the honeysuckle; and taste the sweet homemade blackberry iced tea. (I must confess that I was inspired by the book to make and sip the latter.)
The magical realism is subtle as the Callow women are of Celtic ancestry, and they are keepers of magical mulberry trees and four and twenty blackbirds that are not indigenous to Northeast Alabama. Slices of pie from the Blackbird Café provide patrons with messages from their deceased loved ones as they dream. The messages are facilitated by the midnight songs of the blackbirds that sing in the branches of the trees behind the café.
Anna Kate, the sole Callow woman still living, has arrived in Wicklow, Alabama upon her grandmother's death. She has inherited the café and her grandmother's estate just as long as she runs the café for a specific amount of time. Anna Kate does not want to stay because she is enrolled to begin medical school in Boston in the autumn. Plus her late mother hated the idea of her ever visiting Wicklow: Eden left Wicklow not only with a broken heart, but pregnant with Anna Kate.
The tragic circumstances of Eden and the young man she loved is heartbreaking. Anna Kate was sheltered from his family by Eden, but upon arriving in town, she is suddenly thrown into the circle of her late father's family. Determined not to make connections or get attached to the town, Anna Kate tries to keep everyone at arm's length. Unfortunately for her, she has her mother's genes of caring for others and the need to heal others unconventionally.
There are so many elements that make this book great: sense of place; well-drawn characters; Southern (and Alabama) sense of place; familial secrets and drama; budding romances for Anna Kate and her young aunt, Natalie; and laugh-out-loud dialogue. The story is told from both Natalie and Anna Kate's points of view, and as hard as "head hopping" is for some writers, Heather Webber pulls it off well. If you enjoy Southern fiction that's a bit literary and a whole lot of magical realism, then you will absolutely LOVE Midnight at the Blackbird Café.
Disclosure:
I received an Advanced Reader's Copy (ARC) of
Midnight at the Blackbird Cafè
from the publisher (
Tor-Forge Books
) via
Wunderkind PR
in exchange for a fair and honest review.
Below is an IndieBound Affiliate link for purchasing the book.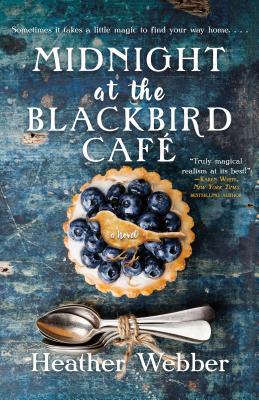 Until next time...
Happy reading!
Ricki Jill