Happy Thursday, My Lovelies! This week I read My Oxford Year by Julia Whelan. I chose this book for nostalgic reasons because I was an exchange student and attended Balliol College with several of my friends. I was happily surprised that Whelan mentions Balliol and the three Anglican Martyrs' Memorial located there.
About My Oxford Year
• Paperback:
352 pages
• Publisher:
William Morrow Paperbacks (April 24, 2018)
Major Motion Picture Already in Development with Temple Hill Entertainment
Set amidst the breathtaking beauty of Oxford, this sparkling debut novel tells the unforgettable story about a determined young woman eager to make her mark in the world and the handsome man who introduces her to an incredible love that will irrevocably alter her future—perfect for fans of JoJo Moyes and Nicholas Sparks.
American Ella Durran has had the same plan for her life since she was thirteen: Study at Oxford. At 24, she's finally made it to England on a Rhodes Scholarship when she's offered an unbelievable position in a rising political star's presidential campaign. With the promise that she'll work remotely and return to DC at the end of her Oxford year, she's free to enjoy her Once in a Lifetime Experience. That is, until a smart-mouthed local who is too quick with his tongue and his car ruins her shirt and her first day.
When Ella discovers that her English literature course will be taught by none other than that same local, Jamie Davenport, she thinks for the first time that Oxford might not be all she's envisioned. But a late-night drink reveals a connection she wasn't anticipating finding and what begins as a casual fling soon develops into something much more when Ella learns Jamie has a life-changing secret.
Immediately, Ella is faced with a seemingly impossible decision: turn her back on the man she's falling in love with to follow her political dreams or be there for him during a trial neither are truly prepared for. As the end of her year in Oxford rapidly approaches, Ella must decide if the dreams she's always wanted are the same ones she's now yearning for.
Julia Whelan is a tea master so these photos are in honor of her.
How awesome is that!!!
My review:
In Whelan's Acknowledgments, she states that this novel is based upon an original screenplay. She was hired to write the novel because she attended Oxford University, and like Ella the main character, she could give a unique perspective as an American who "read" (because at Oxford students read, not study) literature and creative writing there. I enjoyed all the mentions of many of the sites around Oxford I remember. Whelan does a remarkable job describing Oxford, and not just the physical place, but also the history, mood, and atmosphere of the university. I enjoyed reading about the traditions, too.
Also, I love the adorable cover with the bike rider on the bridge and the couple punting on the Isis; it's so charming. (But maybe I should've paid a bit more attention to the blurb that compares the book to JoJo Moyes and Nicholas Sparks.) Without spelling it out, you probably know to what I'm referring. Ella has a group of friends who are quirky and fun, and I'm disappointed in Ella's lack of romance toward Jamie as she counts down her departure time once her year of academic study is over.
At first, this novel reads like chick lit because Ella has a wonderful job as a presidential campaign consultant based mostly on a study she conducted about the importance of art education. She's able to work remotely from Oxford as she fulfills her childhood dream to study at the university as a Rhodes scholar. Then she has a cute-meet with a dashing if not obnoxious Brit in a fish and chips fry shop who ends-up being one of her lecturers. Then the next thing you know they fall drunkenly into bed together and we know this because Ella wakes up to Professor Jamie's exiting her bathroom dressed in yesterday's clothes...and the reader gets none of the sexy bits, so this book isn't quite a romance novel. ;P
When the reader discovers Jamie's life-changing secret, it becomes much more literary. Julia Whelan does a wonderful job with the novel, and I wonder if the literary allusions and quotes are from the screenplay or from Whelan because they are most excellent, and they add so much to the narrative. Nevertheless, I think this is a well-written novel, but it's not a lighthearted read as the cover might suggest. I can't wait for the movie!

Purchase Links
Photo by Kei Moreno
About Julia Whelan
Julia Whelan is a screenwriter, lifelong actor, and award-winning audiobook narrator. She graduated with a degree in English and creative writing from Middlebury College and Oxford University. While she was in England, her flirtation with tea blossomed into a full-blown love affair, culminating in her eventual certification as a tea master. Find out more about Julia at her
website
, and connect with her on
Twitter
,
Facebook
, and
Instagram
.
Disclosure:
I received an ARC of
My Oxford Year
from the publisher via
TLC Book Tours
in exchange for a fair and honest review.
Also, if you prefer purchasing your books from Indie bookstores, below is an affiliate link from Indie Bound.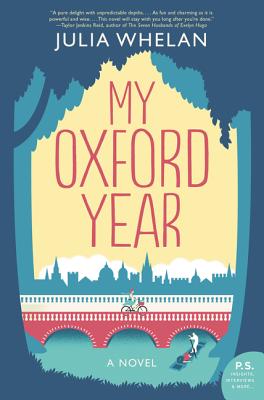 Until next time...
Happy reading!
Ricki Jill