Happy Literary Friday, My Lovelies!
This year I'm shopping my bookshelf as part of a yearly challenge at The Caffeinated Reader. We're tying to get a handle on our TBR list, and I'm committed to reading the entire
Dublin Murder Squad series by Tana French
. The first book in the series is In the Woods, and I finished it a couple of weeks ago. Hopefully I can start on book two this weekend.
According to Goodreads:
A gorgeously written novel that marks the debut of an astonishing new voice in psychological suspense.
As dusk approaches a small Dublin suburb in the summer of 1984, mothers begin to call their children home. But on this warm evening, three children do not return from the dark and silent woods. When the police arrive, they find only one of the children. He is gripping a tree trunk in terror, wearing blood-filled sneakers and unable to recall a single detail of the previous hours.
Twenty years later, the found boy, Rob Ryan, is a detective on the Dublin Murder Squad and keeps his past a secret. But when a 12-year-old girl is found murdered in the same woods, he and Detective Cassie Maddox (his partner and closest friend) find themselves investigating a case chillingly similar to the previous unsolved mystery. Now, with only snippets of long-buried memories to guide him, Ryan has the chance to uncover both the mystery of the case before him and that of his own shadowy past.
Here are all six books in the series so far.
My Review:
One thing that's interesting about this series is that each book has a different protagonist who's part of the Dublin Murder Squad. This novel focused more on Rob Ryan's story and a tragic event from his childhood that's affecting him as a murder detective.
When Rob was a preteen, he enjoyed playing in the woods with his two best friends. One evening the trio didn't return to their homes for tea, and a search ensued. Rob's friends were never found, but he was found in a catatonic state with sneakers filled with blood. He was so traumatized from the events that he never regained his memory of what happened to him and his friends.
In the present, Rob is assigned to the murder case of a twelve year old girl who's discovered on an archaeological dig in the same woods where Rob played as a child...the same woods where his friends disappeared. My heart goes out to Rob because he really didn't get the therapy he needed as a child and was shipped-off to England to boarding school shortly after the incident. He started going by his middle name, and his parents moved so the press and other interested parties couldn't find Rob for updates on his story. The conflict of interest in his being assigned to the case is obvious, but no one knows on the Murder Squad about Rob's past. Even his best friend and partner Cassie doesn't find out until they are deep into their investigation.
Rob's loss of sleep, memory fragments, and complicated feelings about Cassie do not help his detecting skills. He's a borderline alcoholic, and he can hardly sleep even when he drinks. During the day, he drinks tons of caffeine in order to function, and it's disturbing to read how this case affects Rob because he's a very likable character in spite of his faults. Tana French is so good at getting inside the minds of her characters, and I love how she writes! The story is well-scripted, and it's hard to believe that this is her debut novel.
This mystery is a rollercoaster of emotions, drama, and suspense. The plot had many unexpected twists which makes it a very fun, exciting read. Cassie is the focus of the second book, and I'm looking forward to reading it because her backstory is very unique, and it's a huge plot point in her book. So far I highly recommend this series.
I keep a reading journal, and this is the page for In the Woods.
Below is an IndieBound affiliate link for purchasing In the Woods.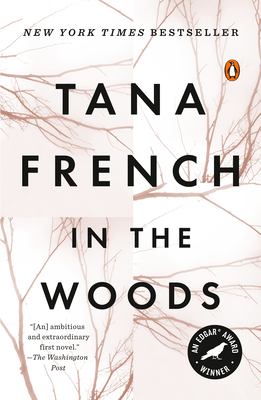 What are you reading this weekend?
Until next time...
Happy reading!
Ricki Jill