About Family Tree
• Paperback:
400 pages
• Publisher:
William Morrow Paperbacks; Reprint edition (January 9, 2018)
From the #1 New York Times bestselling author comes a powerful, emotionally complex story of love, loss, the pain of the past—and the promise of the future.
Sometimes the greatest dream starts with the smallest element. A single cell, joining with another. And then dividing. And just like that, the world changes. Annie Harlow knows how lucky she is. The producer of a popular television cooking show, she loves her handsome husband and the beautiful Los Angeles home they share. And now, she's pregnant with their first child.
But in an instant, her life is shattered. And when Annie awakes from a yearlong coma, she discovers that time isn't the only thing she's lost.
Grieving and wounded, Annie retreats to her old family home in Switchback, Vermont, a maple farm generations old. There, surrounded by her free-spirited brother, their divorced mother, and four young nieces and nephews, Annie slowly emerges into a world she left behind years ago: the town where she grew up, the people she knew before, the high-school boyfriend turned judge. And with the discovery of a cookbook her grandmother wrote in the distant past, Annie unearths an age-old mystery that might prove the salvation of the family farm.
Family Tree
is the story of one woman's triumph over betrayal, and how she eventually comes to terms with her past. It is the story of joys unrealized and opportunities regained. Complex, clear-eyed and big-hearted, funny, sad, and wise, it is a novel to cherish and to remember.

Purchase Links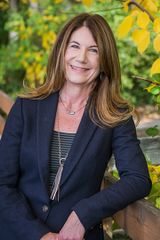 Life at Six Knots Photography
About Susan Wiggs
Susan Wiggs is the #1
New York Times
bestselling author of more than fifty novels, including the beloved Lakeshore Chronicles series and her most recent novel, the instant
New York Times
bestseller
Family Tree
. Her award-winning books have been translated into two dozen languages. A native of a small town in upstate New York, she now lives with her husband at the water's edge on an island in Puget Sound, and in good weather can commute to her writers' group in a twenty-one-foot motorboat. A former teacher and graduate of the University of Texas and Harvard, Susan is also an avid hiker, an amateur photographer, a good skier, and a cautious mountain biker—yet her favorite form of exercise is curling up with a good book. Find out more about Susan at her
website
, and connect with her on
Facebook
,
Twitter
, and
Instagram
.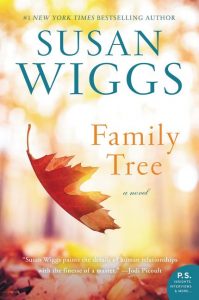 My Review:
In 2016 I read
The Beekeeper's Ball
, also written by Susan Wiggs, and I loved it. The book even had recipes I tried, and I enjoyed making them almost as much as I enjoyed reading the story. Of course the recipes were centered around honey.
Family Tree
also has characters who enjoy creating in the kitchen, and my only disappointment is that there were no recipes for the epicurean delights mentioned in the book.
Annie always wanted to escape small town Vermont and have her own cooking show. She even made her own VHS tapes cooking various dishes from the time she was nine years old. Yet in spite of her hard work fulfilling her dream producing a cooking show in Los Angeles she developed herself, a tragedy sends her back home to her family farm.
Annie has trust issues with men because the two most important men in her life abandoned her. She often thinks to herself: "Men leave." First, her father left the family when she was ten to pursue his selfish dreams, and then her cheating husband divorces her while she's in a coma. What adds insult to injury is Annie made her husband Martin the TV chef star that he is today: it was her idea (from her senior project at NYU's Tish School of the Arts) that launched both their careers, hers as the producer and his as star of The Key Ingredient show. So the question is: Can she ever learn to trust her former high school love Fletcher, the true love of her life, even though he never left her?
The storyline shifts back and forth between the past and present. The reader gets the entire story of Annie and Fletcher, and a little about her relationship with Martin. It's hard reading about Annie's recovery, especially since the reader knows how much she's lost. I kept waiting for the other shoe to drop...waiting on pins and needles. This is what Susan Wiggs does so well: she writes beautiful stories about relatable characters that you care about: You know these people. Plus, she always writes with a sense of place wherever her books are set. I enjoyed the Vermont setting of this story along with the peoples' dialect and atmosphere of the town. I highly recommend this book if you enjoy contemporary family dramas with unforgettable, relatable characters.
I also found out that there's a prequel to this book entitled The Key Ingredient. I'm getting it for my Nook this week because I want to read more about Martin and Annie's story.
Disclosure: I received a copy of Family Tree from the publisher via TLC Book Tours in exchange for a fair and honest review.
Until next time...
Happy reading!
Ricki Jill