It's time to fess-up with Aubrey and her peeps @ Friday Confessional!

For the most part this week, I've been walking away from things that are bad for me....especially my wallet! ;P

I confess...

I confess that I had some shopping to do at a local mall, and I had to be in a close proximity to Anthropologie. I need to stay out of that store because I always spend way too much. Plus my mother and grandmother just gave me stuff from there for my birthday.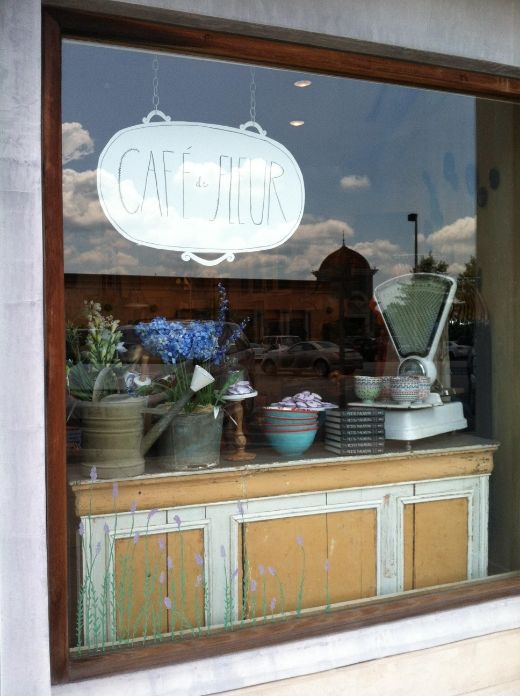 Cafe de Fleur....it even sounds cute, doesn't it!
But I walked away...
I confess...
I confess that my youngest daughter really needs some new shorts for summer. She found these:
Now, I have nothing against Daisy Dukes as long as they fit and aren't ridiculously too short, but Bedazzled Daisy Dukes? They're a bit much.
We walked away.
I confess...
I confess that I finally finished my containers. Yay! I'll post photos next week. But in the meantime, I keep seeing some pretty containers on Pinterest, and I really need to stop looking at them because I can barely take care of what I have!
Love this upcycled planter made from an old lamp base. Isn't it stunning!
See the pretty streaming succulent called strings of pearls?
Pretty container, and more strings of pearls!
I walked away. I must stay away!!!
I confess...
I confess that I always have a hard time walking away from all the pretty flowers at our local market. But lucky for me, our roses still look great after two weeks. Remember this arrangement?
The viburnum didn't last, but the roses have lasted!
I walked away from the market without buying any flowers this week. Yay!
I confess...
I confess that I'm OCD. I spring cleaned the cabin last weekend, and I really need to do the same at home. But we've had a very busy week, so I walked away from my huge list of chores. There's always next week!
A tiny corner in our cabin kitchen. So nice everything is clean and smells good.
I confess...
I confess that we have lots of fresh, ripe cherries around because I've been making
this recipe
, so I decided to bake an old-fashioned upside down cake that's been in our family for a long time.
Cherry Upside-Down Cake
Ingredients:
3 tablespoons butter, melted
1/2 cup packed brown sugar
3 cups cherries, pitted and cut in half
1/2 cup Crisco
1 cup white sugar
1 egg
1 teaspoon vanilla extract
1 1/2 cups all-purpose flour
2 teaspoons baking powder
1/2 teaspoon salt
1 cup milk
Directions:
Preheat oven to 350.
Pour melted butter into the bottom of an 8 inch square pan making sure that the bottom is evenly coated. Sprinkle the brown sugar over the butter. Arrange the cherries to cover the bottom. Next, cream together the shortening and white sugar. Beat in the egg and vanilla until light and fluffy. Combine the flour, baking powder, and salt, stir into the creamed mixture alternately with the milk, starting and ending with the four mixture. Pour into the baking pan completely covering the cherries.
Bake for 40 to 50 minutes until a toothpick inserted into the middle of the cake comes out clean. Immediately invert onto a serving plate. Enjoy!
This is what happens when you use a butter knife to cut cake!
I need to walk run away from this cake! But I didn't have to run far, because it didn't 'ast very long!
What do you have to confess today?
Until next time...
Blessings!
Ricki Jill