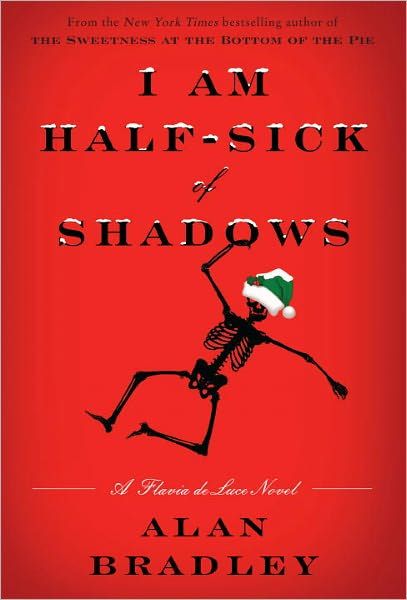 This week I have been reading the latest Flavia de Luce mystery,
I Am Half-Sick of Shadows
by Alan Bradley. If you have not begun reading this series I highly recommend you start. Right now. What are you waiting for? It is Black Friday, and you can buy these books cheaply today, I'm sure!
I Am Half-Sick of Shadows
is the fourth book in the series. Here are the first three: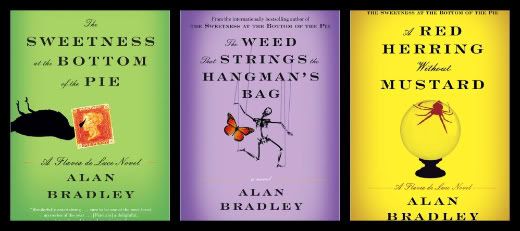 You can read my posts about
The Sweetness at the Bottom of the Pie
here
, and
A Red Herring Without Mustard
here
. I do not want to be repetitive, so if you want more information about Flavia, the eleven year old genius, chemist, and detective extraordinaire, please read my previous posts.
Now about
I am Half-Sick of Shadows
.......
In the fourth installment of the series, it is Christmas, 1950, in the sleepy English village of Bishop's Lacey. The de Luce family's estate, Buckshaw, is about to be the setting of Phyllis Wyvern's latest movie, and she has agreed to perform scenes from Romeo and Juliet with her co-star, Desmond Duncan, to raise money for the local Anglican church. As a blizzard traps practically the whole village at Buckshaw, a murder is committed. Only Flavia can solve the mystery...but can she do so in time to trap St. Nick?
I loved this installment because you get more information about Dogger, and insight into Flavia's relationships with her older sisters, Ophelia and Daphne. I thought Daphne was incredible in this book, and I liked seeing a different side to her. There is a bit of a cliffhanger concerning a rare (almost non-existent) Shakespeare folio and the future of Buckshaw. I also want more answers about Dogger, his friendship with Colonel de Luce, and their activities/service during World War II.
I know I have posted this video before, but it is a fun trailer for the book. I hope you enjoy it!
Until next time...
Happy reading!
Ricki Jill