I learn neat stuff from bloggers everyday. Recently, I learned about Lampe Berger Air Pur systems from Alison @
The Polo House
. If you have not read Alison's blog before, you are missing out. You can read Alison's post about Lamp Bergers
here
.
Please read Alison's post because she can explain them far better than I.
But I will add that these air fragrance systems are supposed to purify the air of bacteria.
A few days after Alison's post, I was picking-up a gift from a local gift shop,
English Ivy
. When I parked in front of the store, I saw a little sign in the window that said Lampe Berger. I thought to myself: "I know what those are!" I asked the owner how long they have carried them, and she said years. She was laughing at me because I have been a customer for years, and I had never before noticed them in the store! I bought one based on Alison's recommendations with the grapefruit scented oil. We are enjoying it very much!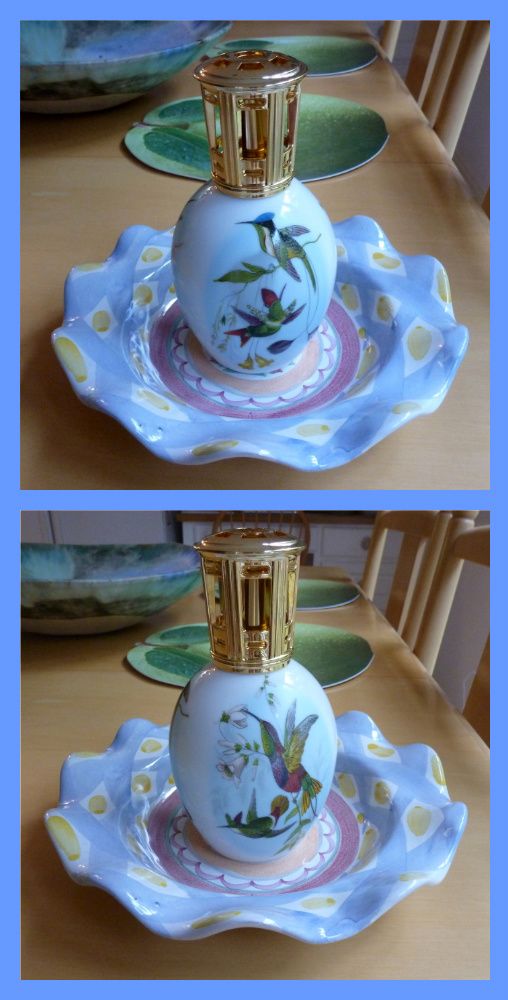 English Ivy had many styles of Lampe Berger bottles, but I chose an English cottage look.
What have you learned from other bloggers lately?
Note:
The youngest daughter told us that she had a huge project due this morning (Monday morning) while we were at the lake Saturday night. We had nothing at the cabin to help her complete the project, so we had to leave the lake early and come home. I did not get to post a 9/11 tribute, but I did read many of yours, and I was so moved by them.
Thanks for all the touching memories and stories that you shared.
Until next time...
Blessings!
Ricki Jill