I am a home decorating book addict. I hear there is no cure, but fortunately for me, my local library has all the latest and greatest home decorating books. I check out many per month, and I only buy those books I think I will actually use either to inspire me in decorating my own home or in my art. This year, I only bought four home decorating books, and they are all very different. Here are my picks for the best home decorating books for 2010: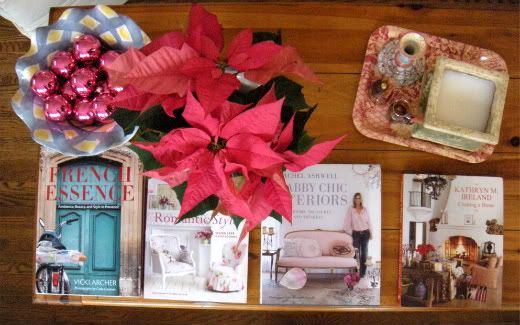 The first book I bought is entitled
Romantic Style
by Selina Lake & Sara Norrman.
There are three reasons why I adore this book. First, I appreciate how this book is organized into sections like: Romantic Inspirations, Romantic Styling, and Romantic Rooms. I found the chapters on Vintage Romantic and Modern Romantic very helpful and inspirational. Second, one of my favorite decorating insights (ever) involves color and how to choose colors for your home. Lake believes that color should be chosen instinctually without inhibition. As an artist, I love that! Third, the interiors I tend to like best in the book are those with bright colors enhanced by stark white. The white accessories really pop in these rooms.
This is one of my favorite interiors from the book. It is from the Modern Romantic section, and I love the mixture of the contemporary green glass tabletop and chairs with the vintage mirror and vases on the mantle. The vintage-looking wallpaper with pops of lime green and raspberry is too, too pretty.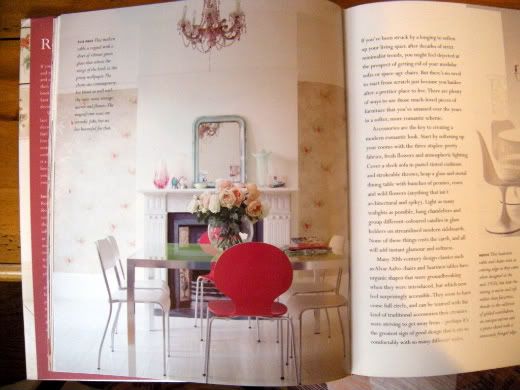 The second book I bought is
Rachel Ashwell's
Shabby Chic Interiors: My Rooms, Treasures, and Trinkets
.
This is by far my favorite of all of her books. It features two of Rachel's homes, plus several other homes that she either helped decorate or reflect her laid-back, casual style. The most important lesson I learned from this book is that you should decorate your home for the way you and your family live. This book has inspired me to redecorate our unused living room into an "everything room." Here is a picture of Rachel's everything room: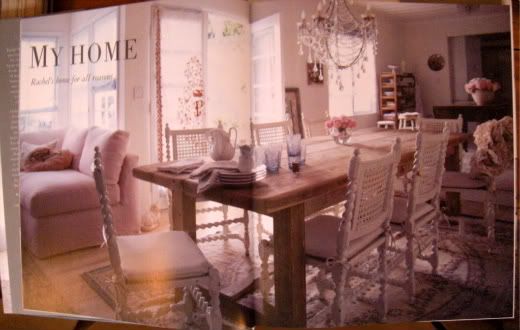 I want our everything room to be used for creating art, reading, casual dining, and however else we choose to use it. This conversion from formal living room to everything room will be one of my big projects for 2011, and I cannot wait to get started!
The third book was actually an early Christmas present from my daughter. I checked it out at the library after reading about it at Lidy's blog,
French Garden House
. Vicki Archer's
French Essence: Ambience, Beauty and Style in Provence
is eye candy!
I have spent many hours reading it and looking at the pictures during the holidays. Archer bought a seventeenth century olive farm about ten years ago and restored it. What I like about the book is that Vicki takes you on field trips to places in Provence to show you what has influenced her decorating and lifestyle. I found it helpful to see how immersion in a different culture can have a profound impact on how one lives. If you are looking strictly for a home decorating book, then this book is probably not for you. However, if you want to be transported to Provence and experience a lovely way of life, then you should buy and read this book. It is almost like reading a Peter Mayle book with pretty pictures!
While recovering from surgery this Christmas, I did not get to "go all out" with cooking and decorating like I normally do. The picture below from
French Essence
made me feel better because the Christmas decorations are simple, yet simply beautiful. The votives and olive branch garland is all that this pretty space needs:
The last book I bought for
myself
as a Christmas present. It is
Creating a Home
by Kathryn M. Ireland, and I actually first learned about it from one of my favorite blogs,
Velvet & Linen
.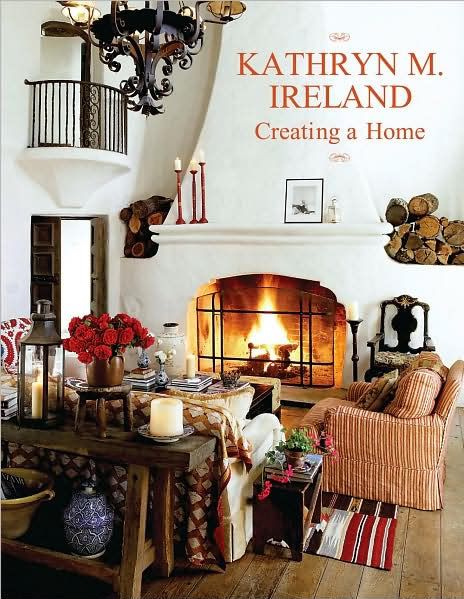 Brooke Giannetti hosted a book signing for this book at her lovely store, Giannetti Home. I adore Brooke's style. I fell in love with her adorable beach cottage when I first spied it in Country Living Gardener Magazine years ago. Look at how Giannetti Home wrapped the book: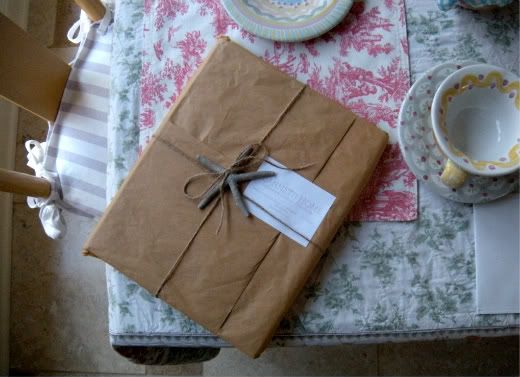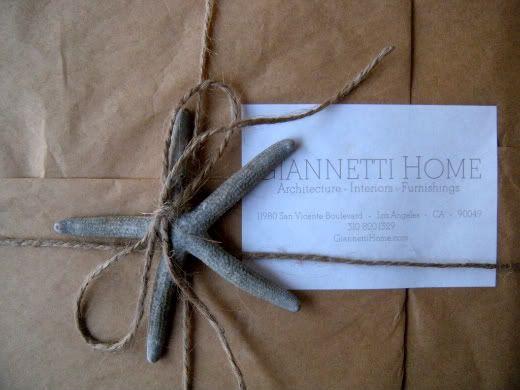 Isn't the presentation lovely? I was so surprised and happy when I opened it.
Creating a Home
chronicles Kathryn Ireland's restoration of a well-known Wallace-Neff designed estate in Ojai, California called the Libbey Ranch. I love the before and after pictures as Kathryn rescues the gorgeous Spanish-style house. Kathryn also gives us a glimpse of her inspirations for the renovations, but not as much as Vicki Archer in
French Essence
. Also about a third of the book is about Alfresco Living, which consists of the gardens, outbuildings, pool, and breezeways. I liked this about the book because I need to be inspired to beautify our backyard. You can see our front yard makeover
here
.
My favorite rooms in the Libby Ranch home are the bedrooms and bathrooms. They are stunning! This one is my favorite:
How do you get your design inspirations? I tend to get mine from library books and talented bloggers. I will be joining Courtney over at French Country Cottage for her
Feathered Nest Friday linky party
.
I hope you have an inspiring (and productive) 2011.
Happy New Year!
Until next time...
Blessings!
Ricki Jill