Happy Wednesday, My Lovelies! Today's What I'm Reading Wednesday post features Adventure By Chicken Bus: An Unschooling Odyssey Through Central America by Janet LoSole. Janet reached out to me last June to read and review her book. As a former homeschooling parent, I was interested and intrigued about their family adventures in travel and cultural immersion. I kept putting off posting a review because although the book is entertaining, it also contains practical advice on how to incorporate travel into homeschooling. With COVID, travel has been limited, and I wanted to review this book when there would be more interest in the topic. That time never came because fifteen days to slow the spread has lasted eleven months.
Janet and I are very different (one difference is she's Canadian and I'm American), but the appeal of homeschooling is the same for us: "[She] aspires to provide her daughters with as many educational opportunities as possible without the confines of a government-imposed curriculum." I homeschooled our youngest daughter because the school district was limited and could not provide her with the opportunities and resources she needed for her education.
Homeschooling in the United States soared from
3.4 percent in 2019 to more than 10 percent
for this school year. Numbers are expected to climb even more, so I thought now might be a good time to feature this book. Recently, I reached out to Janet LoSole and asked her if she has any advice for parents (and grandparents) who are homeschooling, and she has graciously shared a video full of good advice about homeschooling, especially how to get started.
According to Goodreads:
Embarking on a homeschooling field trip to Central America is stressful enough, but add in perilous bridge crossings, trips to the hospital, and a lack of women's underwear, and you have the makings of an Adventure by Chicken Bus… a tale of one family, buckling under a mountain of debt, who sells all worldly possessions and hits the road.
Adventure by Chicken Bus demonstrates how to travel sustainably, but more importantly, how to nurture the next generation of environmentalists and social justice activists by exposing them to the conditions faced by those in the developing world.
From a remote monkey sanctuary tucked into an enclave on the Panama-Costa Rica frontier to the overdeveloped beaches of the Mayan Riviera, we endure chaotic border crossings, infections and injuries, learn about the history of the civil war in Nicaragua, visit UNESCO heritage sites, and hike the ancient Mayan temples of Tikal in Guatemala.
For the sake of safety, we plan our route down to the kilometer, navigating the region by chicken bus, an eye-opening mode of public transportation ubiquitous in the developing world. Along the way we re-connect with each other, re-kindle our commitment to the environment, recognize the privilege into which we were born, and become compassionate global citizens.
My Review:
The first thing I noticed about the book is that Janet LoSole is a very good writer. I enjoyed her backstory, how she and her husband Lloyd became educators and traveled to South Korea as ESL teachers shortly after marriage. It's easy to travel in your twenties without children, but part of the point of the book is to prove that families can travel, and immersing children in other cultures can be the primary source for homeschooling. The family were backpacking, so they were not basing the girls' education on a text-based curriculum. Like many families who homeschool, they implemented "unschooling" where children learn through life experiences. Travel clearly enriches this system, and children are able to learn about parts of the world much different from home.
The LoSoles began their adventure in Parismina, Costa Rica with a once in a lifetime biology lesson: They spent three weeks assisting an organization in saving endangered sea turtles. While living on this island, they were learning Spanish and living simply like the locals. Food was limited, and electricity even more so. I am more than a little impressed with their bravery and willingness to live in third world conditions. The family assimilated similarly in every community they spent time in by adopting the language, customs, and dress of the locals. I am also impressed with Janet's meticulous attention to detail in planning their travel and work, especially when travel plans had to be amended. For example, while in Nicaragua, Janet met a café owner who was a Canadian expat. She warned her about the dangers of taking a night bus into Honduras because she had been on one, and bandits shot-up the bus, killing a passenger. Janet spent the next day changing their itinerary.
I highly recommend this book because I learned so much about community-based travel, so if readers have no interest in homeschooling or "unschooling," they can learn how this type of travel is the most responsible form of tourism. LoSole does a wonderful job explaining why she advocates for it, yet she doesn't sugarcoat the challenges.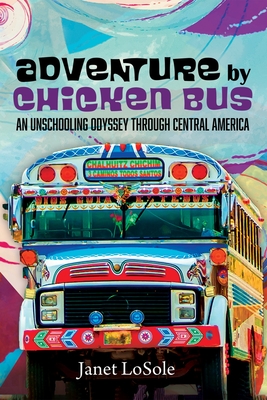 Above is an IndieBound affiliate link
Below is Janet's video with homeschooling tips.
Until next time...
Happy reading!
Ricki Jill